City-wide tour of Free Shakespeare in the Parks: July 25 - August 20, 2017
PERFORMANCE SCHEDULE
TUESDAY
WEDNESDAY
THURSDAY
FRIDAY
SATURDAY
SUNDAY
July 25
July 26
July 27
July 28
July 29
July 30

QUEENS

Sunnyside Gardens Park (48-21 39th Ave)


Kids 7pm
Henry IV 7:30pm

QUEENS

Flushing Meadows (at the Unisphere)


Kids 7pm
Measure 7:30pm

QUEENS

Crocheron Park (35th Ave & Corbett Rd)


Kids 7pm
Henry IV 7:30pm

BROOKLYN

Fort Greene Park (Monument Steps)


Kids 7pm
Measure 7:30pm

STATEN ISLAND

Snug Harbor Cultural Center (1000 Richmond Terrace)

Kids 6pm
Henry IV 6:30pm

BRONX

Van Cortlandt Park (Broadway & 245th St)


Kids 6pm
Henry IV 6:30pm

August 1
August 2
August 3
August 4
August 5
August 6

Rain Date

JERSEY CITY

Newport On The Green (14th St & River Dr S.)


Kids 6:30pm
Henry IV 7pm

QUEENS

Crocheron Park (35th Ave & Corbett Rd)


Kids 7pm
Measure 7:30pm

QUEENS

Voelker Orth Museum (149-19 38th Ave, Flushing)

Kids 7pm
Measure 7:30pm

QUEENS

Gantry Plaza State Park (4-09 47th Rd)


Kids 7pm
Measure 7:30pm

QUEENS

Socrates Sculpture Park (32-01 Vernon Blvd)

Kids, 4:30pm
Henry IV 5pm

August 8
August 9
August 10
August 11
August 12
August 13

Rain Date

MANHATTAN

Harlem Meer (110th St & Malcolm X Blvd)


Kids 6pm
Measure 6:30pm

QUEENS

Cunningham Park (Union Tpk & 196th St)


Kids 7:30pm
Measure 8pm

QUEENS

Voelker Orth Museum (149-19 38th Ave, Flushing)

Kids 7pm
Henry IV 7:30pm

QUEENS

Gantry Plaza State Park (4-09 47th Rd)


Kids 7pm
Henry IV 7:30pm

QUEENS

Socrates Sculpture Park (32-01 Vernon Blvd)

Kids, 4:30pm
Measure 5pm

August 15
August 16
August 17
August 18
August 19
August 20

QUEENS

Sunnyside Gardens Park (48-21 39th Ave)

Kids 7pm
Measure 7:30pm

MANHATTAN

Harlem Meer (110th St & Malcolm X Blvd)

Kids 6pm
Henry IV 6:30pm

QUEENS

Cunningham Park (Union Tpk & 196th St)

Kids 7:30pm
Henry IV 8pm

SOUTHAMPTON

Agawam Park (25 Pond Lane)


Kids 7pm
Measure 7:30pm

SOUTHAMPTON

Agawam Park (25 Pond Lane)


Kids 7pm
Henry IV 7:30pm

Rain Date
Henry IV, Part 1: The Prince and the Rebel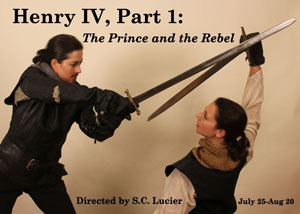 Prince Hal is caught between two worlds: in the tavern, he carouses with a wild bunch, led by the scoundrel Falstaff, but at court, the King presses him to shoulder his responsibilities as heir to the throne. Meanwhile, the rebellious Hotspur threatens to destroy the kingdom. Shakespeare's action-packed coming-of-age story asks "What makes a good leader?"
Measure for Measure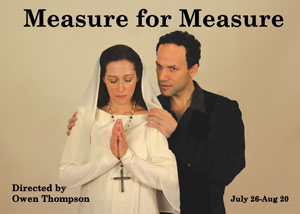 The Duke of Vienna's puritanical deputy Angelo, tasked with cleaning up a city out of control, revives ancient laws regarding sex and marriage. When he unjustly sentences the young gentleman Claudio to death, Claudio's sister Isabella pleads his case...and discovers that Angelo is not as virtuous as he seems. Shakespeare's dark comedy examines the danger of placing power in the wrong hands.
Kids & the Classics
This free interactive workshop is the companion piece to our program of Free Shakespeare in the Parks. It is offered 30 minutes before every performance, and it is designed for children ages 4 to 12. It gives children a chance to interact with the text by previewing the characters and situations, and creating links between the text and their own lives through theatre games and close reading of text.

All performances are free and open to the public.
Running time: 90 minutes.
Fun for the whole family.
Bring a blanket or low chair and picnic fare
and enjoy a Shakespeare play in the open air.