Announcing our 10th Anniversary Season!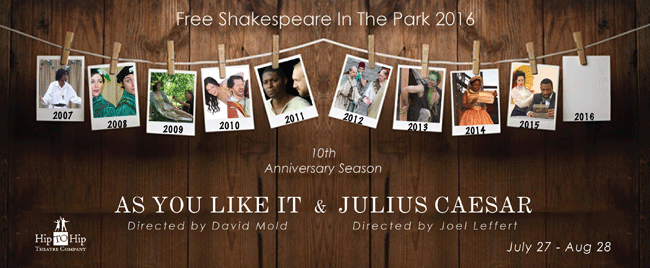 Join us for two of Shakespeare's best-loved and most action-packed plays, complete with political intrigue, hilarious romantic misadventures, civil war, a wrestling match, and a vengeful ghost! Through the dazzling comedy As You Like It, and the pointed tragedy Julius Caesar, our tenth season explores the themes of love and liberty. Both plays examine the aftermath of regime change in a world without clear-cut heroes and villains, where loyalties shift, power corrupts, and personal freedoms are not guaranteed. It's a season worthy of an anniversary!
"Over the past decade, we've had the good fortune of bringing together 237 theatre artists to produce eighteen major shows, and we've toured the shows to over two dozen neighborhoods in Queens, The Bronx, Manhattan, Jersey City and Southampton, playing to 38,582 individuals, young and old, and from some of the most diverse communities in the world. Our tenth season gives us a chance to both celebrate and build upon this foundation, and you're not going to want to miss it. I think the play selections are especially apt—Julius Caesar begs to be produced during an election year, and As You Like It is not only ideal for a celebratory season, but it also provides us with a nice touchstone, because it was the very first play Hip to Hip produced. I hope you will mark your calendars (July 27-August 28), and come out to celebrate with us this summer!"
-Jason Marr, Artistic Director
---
Our programming is made possible in part with public funds from the New York City Department of Cultural Affairs in partnership with the City Council.
Discretionary Funding allocated by New York City Council Majority Leader Jimmy Van Bramer, and Queens Borough President Melinda Katz.
Program support provided by City Parks Foundation, The Davee Foundation, The Josephine Foundation; and Capital funding provided by The Hyde and Watson Foundation