Thanks, and thanks; and ever thanks...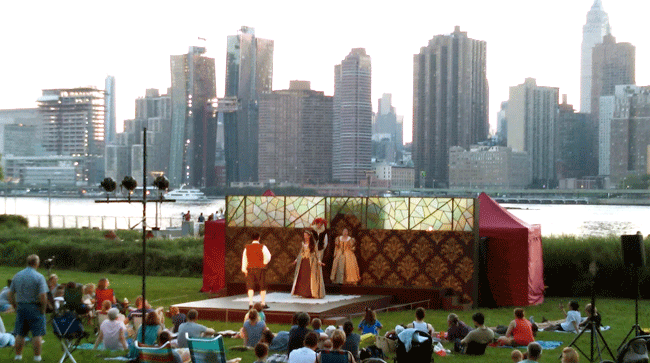 Our 10th anniversary season of "Free Shakespeare in the Parks" is now in the rearview mirror. 2016 was our most ambitious year of programming, and its success rests on the shoulders of 1 master dramatist, 38 dedicated theatre artists, 7 passionate staff members, 6 sharp Board directors, 42 generous funding sources, and 7,629 enthusiastic audience members. Many thanks to all those who made it happen and to all those who came to experience the happening!
We Went City-Wide
In addition to our flagship venues in Queens, Southampton and Jersey City, we expanded our footprint to include the Bronx, Harlem and Brooklyn. We toured Julius Caesar and As You LIke It, together with our interactive children's workshop "Kids & the Classics," to thirteen diverse parks all over New York City and its surrounding areas.
We Elevated Everything
Our production values got a boost when we rolled out our new elevated stage. Not only did the raised decks improve the sight lines for our grass-sitting patrons, they also provided a fresh dynamic to the staging of the productions, and they afforded our apprentices and interns another opportunity for hands-on learning and experience.
We Assembled a Dream Team
The difference between success and failure is a great team. Despite a rather hot, humid, and rainy summer, on 24 occasions our intrepid team traveled to a park, unloaded a 20-foot box truck, set up sets, lights, costumes and audio equipment, put on a stellar show, and then reloaded said items back into said box truck and drove away. Great doesn't even begin to describe our 2016 team.
2017 invites us to embark on our next ten years, and we hope you will continue to play your part.
-Jason Marr, Artistic Director
---
Programming made possible in part with public funds from the New York City Department of Cultural Affairs in partnership with the City Council, including discretionary funding allocated by New York City Council Majority Leader Jimmy Van Bramer and Queens Borough President Melinda Katz.
Funding also provided by The Davee Foundation, The Josephine Foundation, The Anna-Maria & Stephen Kellen Foundation, The Hyde & Watson Foundation, Atlantic Philanthropies, The LeFrak Organization and Goldman Sachs Gives.